Jakarta, 8 November 2022
The Participation of Infoglobal in National Seminar on Challenges of the Indonesian Air Force in the Development of Aviation Electronics Technology
Marketing Infoglobal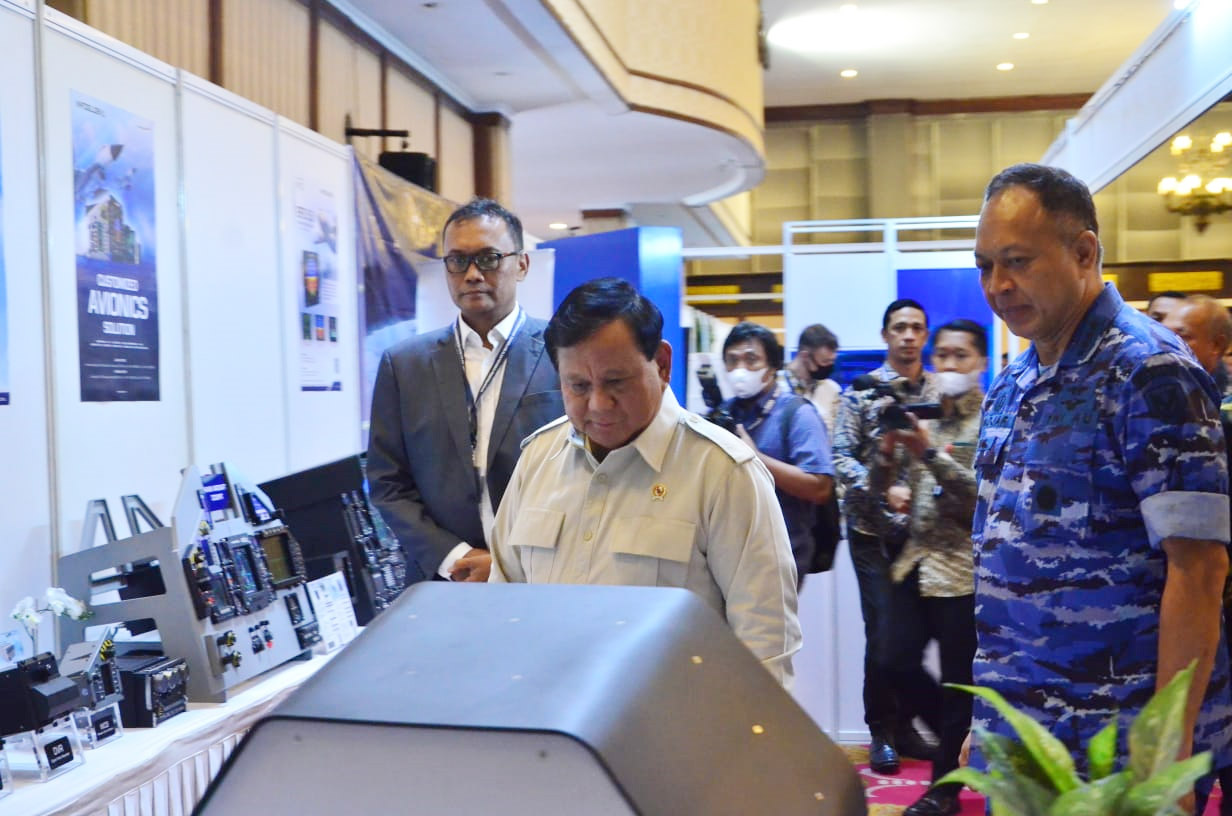 Minister of Defense, Prabowo Subianto visits Infoglobal booth in national seminar on Challenges of the Indonesian Air Force in development of Aviation Electronics Technology
Infoglobal participates in the National Seminar on "Development of Aviation Electronics Technology" which was held by the Indonesian Air Force at Puri Ardhya Garini Halim Perdanakusuma, Jakarta on 8 November 2022. This event was attended by the Indonesian Minister of Defense, Prabowo Subianto as Keynote Speaker, and Indonesian Air Force Chief Marshal Fadjar Prasetyo.
Together with some world aerospace industries, such as Boeing and Airbus, as well as the Indonesian defense industry, Infoglobal held a booth in the same building. Infoglobal CEO Adi Sasongko guides Defense Minister Prabowo to introduce avionics products that have been used to strengthen the Indonesian Air Force's defense equipment. Among them are the Super Tucano Cockpit Mockup (which includes Color Integrated Multifunction Display / CIMD), Hawk Cockpit Mockup (which includes MPCD, RMU), KT-1B Cockpit Mockup (which includes FND & DEI), C-130 Hercules Cockpit Mockup (in which there are EFD-5.5 and FMD-A13) as well as some avionics LRUs such as RCM, DVR, WCB, WPI, Hawk Aircraft Camera System, EFD-6.0, IESD, Engine Data Display (EDD), and Flight Recorder & Tracking (FRT) ). In the seminar, the Minister of Defense of the Republic of Indonesia said that electronics is one proof of the progress of civilization. He aims to rethink the traditional paradigm of air superiority by prioritizing air denial and prioritizing building partnerships with commercial parties and private industry.
Defense Minister Prabowo emphasizes the importance of developing the domestic defense industry, because it cannot continue to rely on foreign production. "I really appreciate being able to come up with ideas on techniques to speed up our lag. We will pursue and accelerate the ability to make and produce our own aircraft," said Defense Minister Prabowo Subianto.
This agenda was also attended by Commission I of the DPR/RI Pitut Pramuji, Governor of Lemhanas Andi Wijayanto, Dr. Ir. Hasto Kristiyanto., M.M., IPU from the Republic of Indonesia Defense University, Secretary General of the Ministry of Defense Air Marshal TNI Donny Ermawan Taufanto, Professor Yosaphat Tetuko, Ph.D, from Chiba University Japan and Head of the Department of Electrical Engineering, Sebelas Maret University, Kadisinfolahtaau Marshal TNI Teguh Dharmawan and Director Main PTDI Marsda TNI (Purn) Gita Amperiawan.